Work party at Shipton Lake
It takes a lot of work to run an angling association. Part of this is the administration and financial tasks which are undertaken by the committee, equally important is the upkeep of the waters, fortunately BCAA has an active group of willing volunteers who turn out regularly to improve the angling experience for our members. Here committee member, Stephen Brown, describes a recent work party at Shipton Lake to refit fishing platforms and generally tidy up.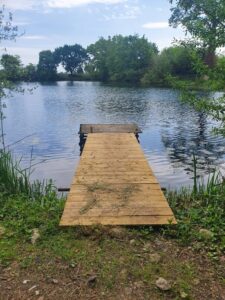 A short notice working party was arranged at Shipton Lake the weekend of 14th/15th May. Platform repairs, pathway clearance and groundworks were planned. A small number of volunteers worked tirelessly for much of the day on what turned out to be the hottest day of the year so far. Old wood was removed from four platforms and fully replaced on three with the last one being half finished.
Three sides of the lake were strimmed to open up a decent walkway and trim down to the base of the otter fence. A mallard duck nesting on the bungalow side prevented a small section of the fence getting attention but its great to see wildlife at close quarters on the lake. Likewise a moorhen nest provided difficulties with the platform work but the guys managed to work around this with minimal disturbance.
Unfortunately the planned groundworks had to be deferred to a later work party with a date late in June to be announced.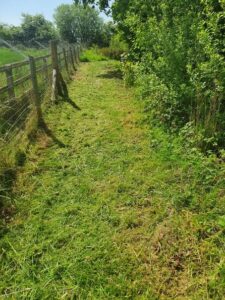 Attendees were Terry Duncalf, James Lynch, Steve Jarvis, Chris Kaminski, Harrison Price and Stephen Brown. Many thanks all involved…including Sally Duncalf for providing the breakfast.
With the lake being closed for the weekend a few of the workers chose to stay and fish. The blue dye introduced over the last year has really done its job and the weed problem of previous years is non-existent. One angler had a superb session catching more than 10 carp including a high double and a new lake record. Elsewhere on the lake waggler and maggots fed little and often provided instant sport with roach, perch, ide and hybrids almost a 'fish a chuck'.
Great fishing at Shipton Lake with excellent access and comfortable pegs. The future looks bright for this fishery with something for everyone.