New BCAA website launches new era for the Association.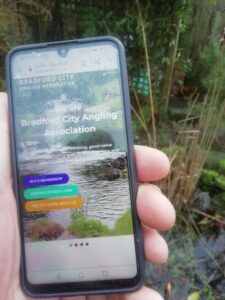 Since its launch three weeks ago the new Bradford City Angling Association website and shop has been well received with some encouraging plaudits on social media:
"Just logged on for the first time . Great improvement on the old well done all concerned."
"Just used the new website to renew membership. Very straight forward and efficient. Like the whole look of the new website".
"Great system, easy to renew, is a great improvement on old renewal system, well done !!"
"Websites great, renewal nice and simple, will attempt to get into the online catch returns habit this year! Thanks to the committee".
The new credit card sized membership cards have been welcomed as a lot more convenient than the previous membership books. We also think the ability to access details about the waters on the bankside via mobile will be extremely useful for members.
The development of the new association website and shop has been a long and tortuous affair, the idea was first mooted about three years ago, but we feel that the result justifies the hard work of the committee to usher in this new look for the club. There were two main reasons for this change:
Whilst the old site had stood us in good stead for many years it was looking very dated and becoming increasingly difficult to amend and administer. We felt it did not reflect well on us as a progressive and forward looking association.
We have recognised for some time that the previous manual membership administration system was cumbersome and placed too great a workload on the general secretary and membership secretary. The system provided by Clubmate automates this, considerably reducing the workload, it also streamlines reporting on membership trends and communication with members.
Of course, as with most new developments there have been some teething problems, mainly around the shop and running  manual subscription alongside the online system, but we are confident that as members, and the administrators, become more familiar with it these issues  will be resolved satisfactorily. If you do experience problems navigating the website or shop please contact Jim Munden who can usually quickly resolve any issues.
Next year we expect that membership subscription and administration will be almost entirely online, this will free up committee time to work on further improving the angling experience for members.