Some members will remember that in amongst dodging covid lockdowns last year the fly section organised a couple of teaching days in July. One was a day's nymphing masterclass with Paul Gaskell and John Pearson the other a beginners day. Both events were so well received it was decided to organise something a bit more ambitious with a longer beginners fly fishing course, so an Introduction to Fly Fishing Rivers is being offered in April.
This beginners fly fishing course, run over four 2.5 hr sessions with a final full day session, is intended for those just starting out on their fly fishing journey. Topics covered will include tackle selection, the all important casting and various techniques such as dry and wet fly, nymphing and streamer fishing. The cost for the whole course will be £100. If this has sparked your interest find out more by clicking the image below.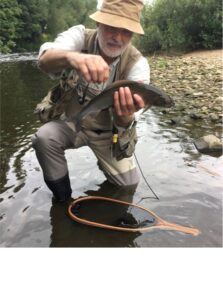 If you are a more experienced fly fisher we may have something for you later in the season. We are currently developing an "improvers" course. Watch this space….