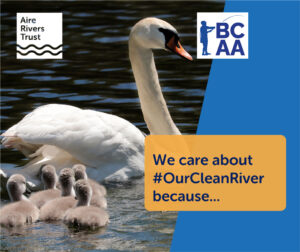 On 7th April BCAA members will be involved in the Aire Rivers Trust event #OurCleanRiver. The campaign runs from 7-10th April when individuals and organisations all along the Aire and it's tributary becks, from Gargrave down to Leeds, will be removing litter and debris from the river. The aim is not only to make our precious river Aire look good but also to remove plastic which otherwise would remain in the  environment for hundreds of years.
We need as many people as possible as we will be clearing rubbish from Gargrave to Carlton Bridge. Teams will be meeting at Gargrave, Inghey Bridge and other locations to be confirmed. We will be collecting the debris and rubbish that has accumulated during the high river periods through Winter. Doesn't sound romantic, nor attractive, but is definitely appreciated by wildlife and all anglers that walk and fish the river – and it is a great opportunity to meet and socialise with fellow members. We plan to collect litter for about four hours then perhaps get some fishing in.
Be sure to get 7th April at 10.00 am in your diary for #Our Clean River and let Paul Cowling know you can make it. He will keep you up to date on logistics and locations in due course.