2022 Game Fishing Open Day – Sunday may 8th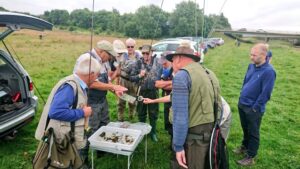 2022 Game Fishing Open Day – Sunday May 8th
After it being cancelled for two years we are pleased to announce that the Open Day will again be held on Sunday 8th May. The format will be same as previous Open Days with demonstrations, a BBQ and a chance to meet fellow members. The venue will be in the field immediately upstream from Inghey bridge and there will be ample parking for anyone coming along. By all means bring friends and family, everyone is welcome and any visitor is also welcome to do some fishing afterwards.
Cost will be a £5 donation to the Wild Trout Trust and demonstrations will kick off at 10.00 a.m.
This year we will have the following:
A sample of invertebrates taken from the river for you to get a good glimpse of what the fish are feeding on,
Stephen Cheetham demonstrating the art of fishing North Country flies. The Aire was one of the rivers where this style and patterns originated.
Chris Hosker demonstrating trotting techniques. Chris is a master at trotting for grayling after the trout season has finished.
Phillippa Hake demonstrating contact nymphing and fly tying. Phillippa is one of the new breed of fly fishing guides fast becoming established in the country. She is also a fantastic fly tier.
Our own Jon Grey discussing pike fishing along the river.
Barbless Flies have been good enough to sponsor our Fly Fishing Rivers Introduction course and will be along to show some of the products they sell. You can even purchase some of them.
Weather permitting, it should be a great social event and the Fly Sub-committee looks forward to catching up with old and new members.
Philip Bailey
Fly Fishing Secretary