Fishing North Country spiders
Fishing North Country Spiders – interested in brushing up on this method?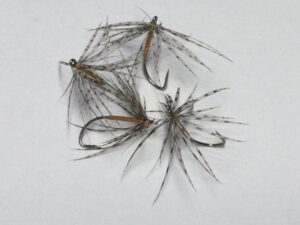 The Fly Sub-committee is holding a session on the 3rd July for members to get better acquainted with this method – how to set up a leader for multiple flies,  fly selection, and techniques to use with these wonderful traditional patterns.
Developed in the early 18th century on the Aire, Wharfe and Ure, they have continued to catch trout and grayling on rivers around the world. Simple patterns which can be a magnet for fish at times.
So why not come along and enjoy a few hours reconnecting with the past and fine tuning your wet fly fishing.
Date : Sunday July 3rd commencing 9.30am. No need to book, just turn up with your fishing gear.
Venue : Gargrave/Broughton beat at Inghey Bridge
Activities: Leaders, knots, fly selection, techniques and fly tying demonstration.
Leader: Steve Cheetham
Cost : Free to BCAA members.
Any cancellation due to river conditions will be made on the BCAA Fly Fishing Facebook page and the BCAA We site news section.