A fishing trip to the Bala and District AA waters
BCAA member Mike Latham recently took a three day fishing trip to the Bala and District AA waters in Wales to practice the nymphing techniques covered on the recent club beginners course.  BCAA members have free access to these waters through a purchased rods arrangement between the two associations. Here is his report on how it went, it sounds like he had a good time.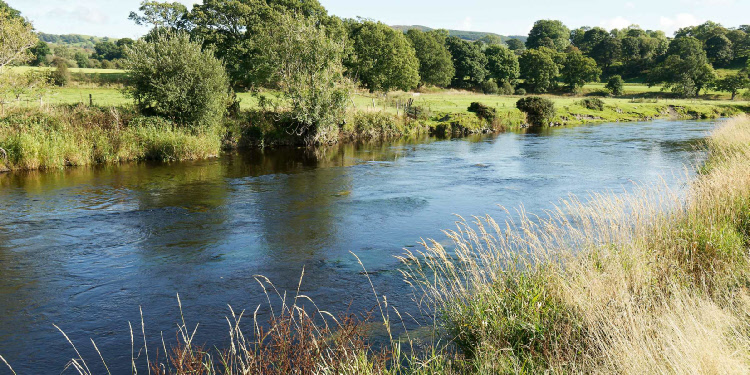 Fished 17th to 20th June 2022
Waters fished
Dee at Bala (BDAA Maps 1, 2 and 3)
Dee at Llandderfel Llafar
Llyn Maes Y Clawdd
Campsite fishing at Ty-tan-dderwen (the opposite bank is on the BDAA ticket)
Dee at Bala
The river was running at normal summer level. It was brown tinged, firm bottomed and edged with trees for much all its length apart from the stretch on Map 1 downstream of the weir. Locals and the tackle shop at Bala recommended using Czech style nymphs for grayling and trout or fishing a duo set-up. I fished with Czech nymphs (pink seemed to work well) and GRHE throughout and caught many c.20 to 30cm trout and grayling. Evenings were more productive although fish were caught at all times of the day. There are without question many much larger fish to be caught by those with the skills to tempt them. A consideration is the depth and speed of the river. It is wide (c. 20m to 25m), deep and fast flowing in, say, 80% of the Bala length. Having traditional waders meant that many fish holding areas were out of reach so time was spent fishing riffles and pockets rather than the long 'grayling' glides. I'd definitely recommend chest waders and maybe a wading staff. Tackle wise, I used a 10' 3 weight nymphing rod, 3 weight DT with a Rio shorty nymphing line. I'd take the same again. The parking spots are as stated in the map book. The parking on Map 2 is in a lay-by on the A494 road with access down steps to the river.
Dee at Llandderfel
An outstanding and very varied beat where the river's characteristics change regularly. It starts with a deep and wide pool under the B4401 bridge, glides for 500m before splitting and reforming. A great place to mix and match techniques. This was my favourite stretch.
Parking is as indicated in the map book. Note that it looks as though one is going down a farm track to the parking – it does lead to a small area with enough room for three cars, probably no more.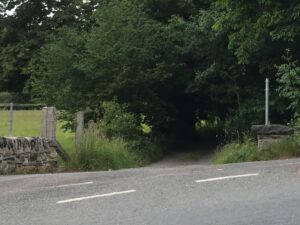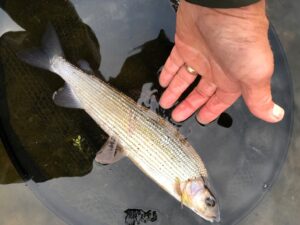 Afon Llanfar
Very much like the Aire at Gargrave in size, depth and water speed. Parking is as indicated in the map book. Look out for a green bin at the top of the track that leads to the upper limit. I didn't stay as there are fences that need crossing, no obvious footfall to follow and the stream is overhung with trees. Locals will know which fences and fields they can cross; as a visitor I didn't want to chance bringing the club into disrepute! It will no doubt hold small brown trout. If going back I'd take a short brook rod.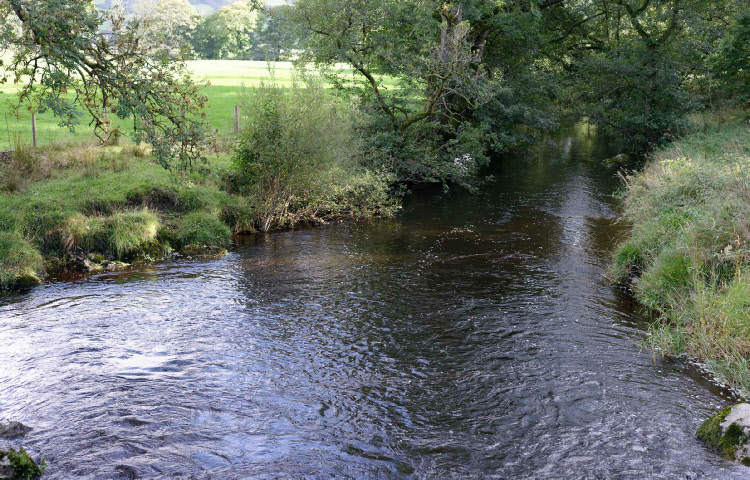 Llyn Maes Y Clawdd
If you blank and need therapy, head to this small, stocked, natural pond. I went just to have a look and met two locals who were catching regularly. Grabbed the rod from the car and fished for no more than 20 minutes and caught two hard fighting rainbows on the 3 weight rod/line. Not everyone's venue of choice but good fun using a duo set up. There's a catch return box at the entrance. Parking is easy at a designated BDAA car park close to the water. There are platforms around the pond and stunning views of the hills and valleys. Having met only one angler in four days – a Belgian angler at Llandderfel – this is a good place to get advice.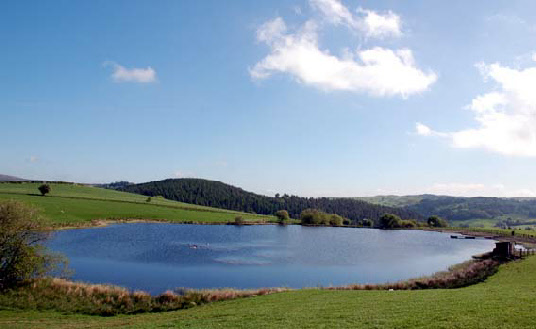 Accommodation
I camped at Ty-tan-dderwen campsite off the B4391. It's a large site, very clean, easy access to facilities, laundry, pot washing and small shop. They own their bank of the Dee: opposite is on the BDAA ticket. To get to the river from the site is approx 300m across two fields. £10 per night plus £5 if you want electricity. I'd return, for sure. 600m away along the road is Ty Isaf campsite. Their river field site is c. 500 m along a bumpy track from the site proper and the facilities. The field has portaloos and a tap and what looks like excellent broken water fishing on the Dee just downstream of Ty-tan-dderwen.
If going for, say, two nights I'd go to the latter for the more interesting, immediately on-site, evening fishing and sacrifice closeness to facilities. For longer I'd go to the former for comfort.
| | |
| --- | --- |
| Ty Isaf campsite and caravan park | Ty-tan-dderwen campsite and caravan park |
Food
The Bryntirion Inn serves good beer and food and is very close to the Llandderfel stretch, Llyn Maes Y Clawdd and both campsites. They also offer accommodation away from the Bala crowds if not camping.
Local help
Bala and District Angling Association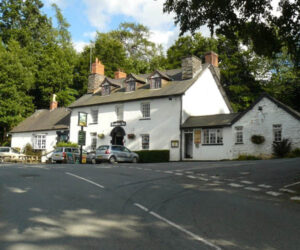 http://www.balaangling.co.uk
Y Gwyniad tackle shop, 33 High St, Bala. The owners are most helpful and stock consumables
plus local flies.
Bryntirion Inn www.bryntirioninn.co.uk
Corwen and District Angling Club website for detailed background information on fishing the Dee.
www.corwenanddistrictanglingclub.co.uk